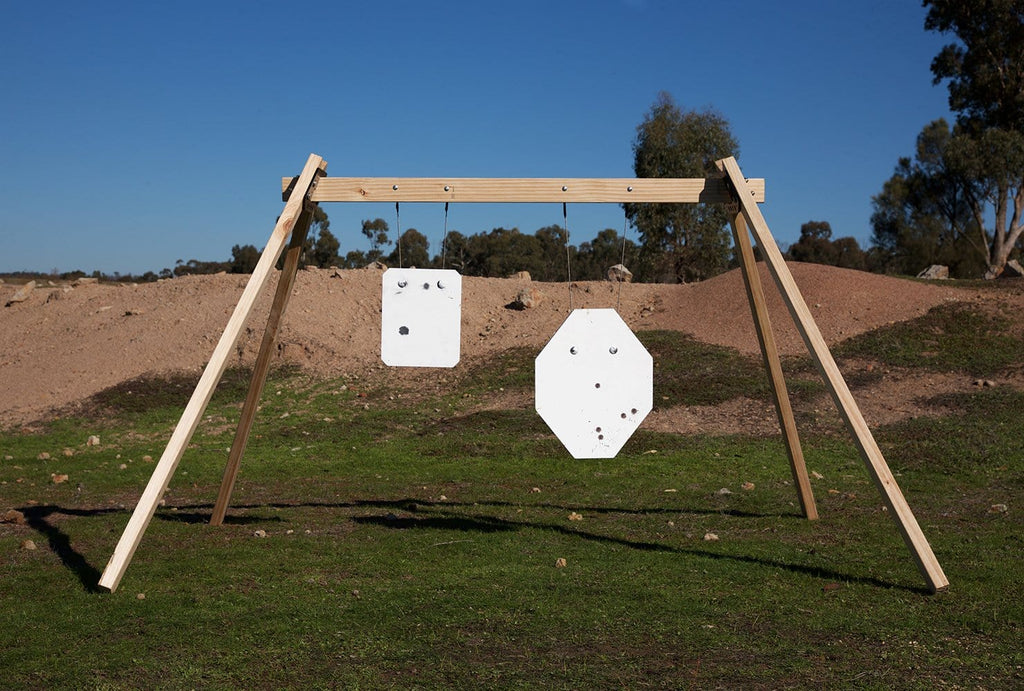 BIS500 T-Plate Target Stand Kit
Create your own target stand which holds multiple heavy targets!

T-Plates made from 

Bisalloy® 500 armour steel - extended service life

Easy, quick to assemble and disassemble and easily transportable

Holds very heavy targets - Extremely robust
The Black Carbon BIS500 T-Plate Target Stand Kit includes everything you need to easily and quickly create your own shooting target stand.
The kit includes two Bisalloy 500 armoured steel plates, a set of eight cup head bolts, washers and nyloc hex flange nuts plus four eye nut target mounts.
The T-Plate Target Stand Kit was designed to be extremely quick and easy to assemble, capable of supporting the weight of multiple heavy targets.
The T-Plate Target Stand Kit is quick to disassemble, which simply folds up for easy transportation.
It's never been easier to construct your own robust target stand.
All targets by Black Carbon are manufactured in Australia and meet our strict quality control guidelines making Black Carbon your #1 choice for steel shooting targets. 
BIS500 T-Plate Target Stand Kit includes:
- Two Bisalloy 500 armoured T-Plates
- 8 cup head bolts
- 8 washers
- 8 hex flang nuts
- 4 eye nut target mounts
Not Included:
- 5 pieces of 90x45 timber - recommended length 180cm. 
The Kit does not include wood, which is required to make the target stand. The wood size needed is 90 x 45.
This is a common use framing size timber, low cost and available at most timber yards.
- (As Shown in Images ) Hanging Chain / Wire Kits / steel targets not included in kit). 
Important:
It is important to

 only 

use

90 x 45

size timber for crossbeam.
The timber can be of any length, we recommend 180cm long and you will need minimum

5 pieces.
You can use an 18mm deep socket wrench, 18mm ring spanner or a shift spanner to tighten nuts.
You will need a drill: 1 - 12mm drill bit and 1- 8mm drill bits

Assembly Instructions included with all kits.
Click here to download instructions
Customer Reviews
I recommend this product
Great quality & easy to assemble.
Excellent quality and very sleek design. Was very simple to assemble by myself in around 15 minutes. I also purchased 6 x 1.8m lengths of treated pine (1 spare) from Home Hardware for $52. Makes an easy to move target stand whicht folds up to five parallel lengths of wood. I used it with my BC 16mm target (which is also awesome) but you could use with any target. Natascha was a pleasure to deal with. Product and staff are highly recommended. Cheers, Nomad
Delivery
Delivery Australia Wide
Shipping via courier services such as Couries please, TNT, etc. Rural locations may increase shipping fees.
Payment Information
Payment Options: Shopify, EFTPOS, Visa, Credit Card, paypal, Bank Transfer and AfterPay.